Watch a cosy French family film about a boy and a wild horse, learn how to make an easy wild mushroom pasta, how to enjoy rituals in your relationship and some psychedelic AI art in the style of Codex Seraphinianus and much more in edition #94 of Interesting Things
---
Spacious, serene ambient soundscapes to lull you into a good mood. I love this cover photo!
---
Imaginarium Jungle 2 is an AI generated colourful and surreal world inspired by the classic "Codex Seraphinianus" creatures!
Originally tweeted by Carol Ann (@FloridaCarolAnn) on November 8, 2022.
---
Beyonce as a young girl gets her photo taken with the pop group En Vogue in the early 90's
---
Trying to turn a problem inside out and looking for a solution, or several potential solutions? this infographic should provoke some interesting explorations of possibilities. Via Cool Guides on Reddit
---
Relationship expert Esther Perel is always full of insights and wisdom that help to navigate relationships with a long term partner. Here she talks about why having micro-traditions and rituals helps to build and strengthen bonds between people.
---
Will Yeung Man is a great vegan chef and his recipes are always a winner, I can't wait to give this warming, homely recipe a try.
---
Animals teach us so much….including the restorative values of a cat nap.
I find that the natural rhythms of the body and mind usually suggest a cat nap at about 2.30 to 3 p.m:)
A fifteen minute cat nap can change the whole nature of the day….from possibly feeling a little sluggish to being wide awake and ready to go:)
Read more on Janet's amazing blog
---
The Whale brings back Brendan Fraser to cinema screens
One of the most underrated actors of the 90's, Brendan Fraser has come back for this new arthouse film The Whale. Unlike his other more frivolous comedy roles of the past, he has been resurrected into a dramatic film and there is a lot of buzz about his powerful performance. I can't wait to see this in the cinema with my best friend over the Christmas period. I have always found Brendan Fraser to be an interesting, earnest and under-appreciated actor.
---
When I think about how to best help someone, I am reminded of what psychiatrist Irvin Yalom found when he asked 20 clients what was most beneficial to them about their time in therapy (Yalom & Leszcz, 2005). The average client had spent an average of 16 months in therapy, and was just about to finish up.
The top four categories of responses they gave consisted of:
4. Self-understanding: learning more about thoughts, feelings, the self, and their origins
3. Cohesiveness: being understood, accepted and connected with a sense of belonging
2. Catharsis: expressing feelings and getting things out in the open
1. Interpersonal input: learning more about one's impression and impact on others.
---
In the Camargue, France, a young boy bonds with a white haired horse that escaped from ranchers. Subtitled in English, this looks like an interesting film to watch during the Christmas period. The full film is available on YT here:
---
Infographic: A Walk Through Time
What an amazing way to visualize early human migration. A lovely map by @HarvardCGA. A great colour scheme and an appropriate map projection! Read more about the project here. A lot of people in the Twitter comments are saying that the timeline here is all wrong, but it's still a nice visualisation, let me know what you think.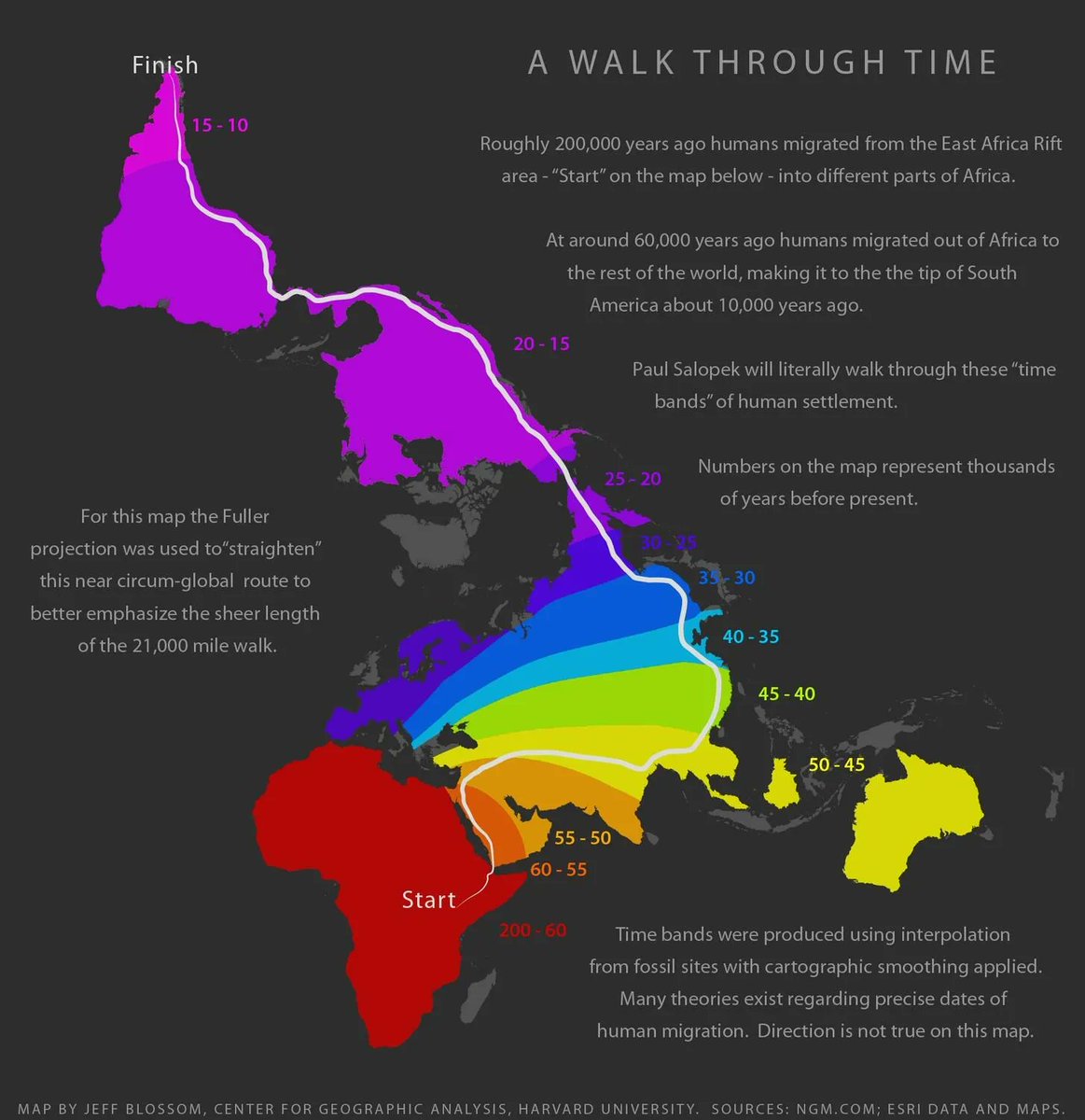 Originally tweeted by Simon Kuestenmacher (@simongerman600) on November 29, 2021.
---

"And into the forest I go to lose my mind and find my soul." ~ John Muir
Originally tweeted by Francisco Ribeiro (@fraveris) on December 6, 2022.
---
Born in 1973 I grew up mostly in rural Somerset. I am completely self taught having not taken the conventional route through education. I was encouraged to draw and paint from an early age, as my parents are both creative people, I was also taken on regular trips to galleries and museums which ignited my passion for art. Art took a back seat while I raised my three daughters, who now they are older provide much of my inspiration. I paint in acrylics on canvas board taking inspiration from everyday life. Domestic scenes feature regularly in my pictures taking a romanticised gentler look at life.

Lucy Almey Bird's website
---
A funky, unique and rare disco album from 1976 that oozes feel good vibes.
---
Did you enjoy this collection? Consider making a one-off donation to say thanks, this helps to pay for the website costs. Thank you for reading
---
Content Catnip