Breton lunar superstitions, a passionate barista champion, ancient Arabic art made anew, a woollen house and how to keep yourself safe during a protest and much more in the 99th edition of Interesting Things – stay cool!
---
Tina has incredible artistic and hand-building skills and turns herself into a mysterious and kooky anime character. The results, like with her other tutorial videos are totally mind-blowing.
---
There is a lot wrong with our world. If you have decided to get out onto the streets and exercise one of your fundamental rights, then here's how to stay safe while doing that. Via Cool Guides on Reddit
---
Renaissance problems remixed for the new age. Via Reddit
---
Via Interesting as Fuck on Twitter.
---
Morgan Eckroth: World Barista Championships Final in Melbourne, 2022
I love the dedication, passion and professionalism that she shows. Her deep passion for coffee is obvious here and the way she weaves deep stories into her coffee making process (which itself looks intense and complicated) she does all of this in an effortless and graceful way…she is pretty amazing this girl. She came second!
---
The knitted house, 2006 made for the London Architecture Biennale by the group Knitting Site- women who knitted the outside walls out of garbage bags, old plastic bags, and rope. They continued on the day of the event, as the house unfolded before the crowd's eyes!
Originally tweeted by #WOMENSART (@womensart1) on October 8, 2022.
---
"Take care" mix by Dreaming Files
I was initially attracted to the VHS tape quality tulips used in cover photo of this mix. Then the mix came on which is a warming, comforting and uplifting underground house mix. Creator of the mix Dreaming Files has done well, the title and it's meaning is suitably enigmatic, the music suitably dreamy and the video clips are old VHS tapes from 90's NYC, which provide a compelling visual narrative.
---
---
Fancy some epic, warm and funky jazz? Here's a random bargain bin find from the backwaters of Youtube straight to your ear lobes.
---
"We need to move beyond the idea of 'environment,' and fall back in love with Mother Earth.

~Thich Nhat Hanh
Art by Phillip Chan.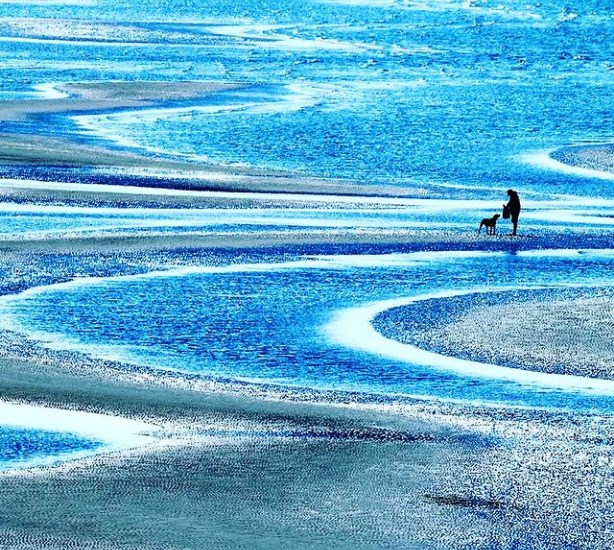 Originally tweeted by Francisco Ribeiro (@fraveris) on January 11, 2023.
---
Ladies be warned: don't stare at the moon while taking a pee in the middle of the night
Breton women who answered nature's call at night were careful never to turn to the moon when they did so, especially if it was a waning moon. Otherwise, they risked conceiving by virtue of the moon. It also brought bad luck to castrate a pig during this moon phase! #wyrdwednesday

Originally tweeted by Bonjour from Brittany (@BonReposGites) on January 11, 2023.
Art: Andrew Davidson
---
Studio Ibbini is an award-winning collaboration between Julia Ibbini and Stéphane Noyer creating works that intersect contemporary art, design and engineering. Based in Abu Dhabi, they create intricate, detailed works inspired by Islamic geometry, pattern & design. Via Bayt Al Fann on Twitter
---
Did you enjoy this collection? let me know below what you thought. Thank you for reading and I hope you enjoyed it, stay tuned for the next ones!
---
Content Catnip