---

See a medieval Slavic folk calendar, a guide to historical panics from history, a toe-bean model, Polish words in English, sublime stained glass windows of the Middle East, a hidden 80's video store and much more, I hope you enjoy edition #102 let me know your thoughts below

---
A #medieval #Slavic folk calendar, a guide to historical panics, a toe-bean model, Polish words in English, sublime stained glass, an 80's video store. It's edition #102 of #10InterestingThings #Art #Folklore #History #Music #Culture

Tweet
It took him four years of family, friends and creative endeavours to build it. The result is a nostalgic masterpiece! Via Reddit
---
Not much info about this online, I love the sundial face, this is a classic jam of medieval aesthetics.
---
People were locked up for a lot of silly reasons in the past, here are some of them…
---
If you fuck around, then you find out. On the other hand if you don't fuck around…you will never find out
It's true of everything really isn't it.
---
Look at this lil pomeranian getting her hair cut, she is the perfect "toe-bean" model. I love how each episode of this channel is always about showcasing every dog, cat (or pig) and their unique personalities. A great feel-good channel to follow.
---
Polish is an interesting, complex, emotionally rich and precise language that sounds beautiful, I had no idea that some of these words come from Polish, other ones were more obvious if you like Polish food.
| Word | Meaning | Etymology |
| --- | --- | --- |
| Baba/Babka cake | A leavened coffee or rum cake flavored with orange rind, rum, almonds, and raisins | Polish babka ("yeast cake"), or diminutive of baba ("old woman") |
| Borscht | Beetroot soup | Polish barszcz |
| Bigos | A Polish stew made with meat and cabbage | Polish bigos |
| Britzka | A type of horse-drawn carriage | Polish bryczka, diminutive of bryka ("wagon") |
| Bryndza | Polish traditional cheese | Polish traditional crumby type cheese |
| Intelligentsia | Educated social class | Polish inteligencja |
| Kasha | Buckwheat grain porridge type | Polish kasza |
| Kabanos | Type of thin dry sausage | Polish kabanos |
| Kevlar | Synthetic fiber | From the name of Stephanie Kwolek, Polish scientist |
| Kielbasa | A seasoned smoked Polish sausage | Polish kiełbasa ("sausage") |
| Klotski | A sliding block puzzle | Polish klocki, plural of klocek ("toy block") |
| Konik | A horse breed | Polish konik, diminutive of koń ("horse") |
| Krakowiak | Polish national dance | Polish national dance from Krakow |
| Krówka | Polish fudge type sweet | Diminutive or krowa, "cow" |
| Kujawiak | Polish national dance | From the Polish region of Kujawy |
| Makowiec [pl; de; fr]/Poppyseed cake/bread | Type of rolled cake/bread | From Polish mak ("poppyseed") |
| Mazurka | Polish national dance | From the Polish region of Mazury |
| Mazurka | Type of cake | Polish cake from the Mazury region |
| Mazurka | Classical music piece created by F.Chopin | Polish mazurek |
| Mead | Alcoholic drink based on honey | from Polish "miód" meaning 'honey" |
| Marrowsky | Dated – A spoonerism | A Polish count's surname |
| Oberek | Polish national dance | Polish oberek |
| Ogonek | A hook-shaped diacritic | Polish ogonek ← diminutive of ogon ("tail") ← Proto-Slavic *ogonŭ (probably originally "that which drives away (flies and the like)"): *o-, ob-, ("around, on") + *goniti ("to push, chase, drive") |
| Oscypek | Polish traditional smoked cheese | Polish oscypek smoked cheese from the Tatra region |
| Pączki | A Polish jam-filled doughnut | Polish pączki, plural of pączek ← diminutive of pąk ("bud") |
| Pierogi | A semicircular dumpling of unleavened dough with any of various fillings | Polish pierogi, plural of pieróg |
| Polish notation | Mathematical notation of operators/PN/NPN | Lukasiewicz notation |
| Rendzina | Type of soils | From Old Polish rędzic to talk/tell |
| Rogal | Polish crescent roll | Polish rogal – from róg, "horn" |
| Sejm | Polish diet or parliament | Polish sejm ("diet, assembly") |
| Solidarnosc | Political movement | Polish solidarność ("solidarity") |
| Spruce | A type coniferous tree | Polish liet. z Prus, "from Prussia" |
| Starka | Aged strong alcohol | Polish stary, "old" |
| Zloty | Polish currency | Polish złoty ("golden"), from złoto ("gold") ← Proto-Indo-European ghel |
| Zubr | European bison living in Poland's primeval forest | Polish żubr, European bison |
| Żurek | Polish traditional sour type soup | Polish żurek |
Indirectly
The following words are derived from Polish via third languages.
| Word | Meaning | Etymology |
| --- | --- | --- |
| Hetman | Historical – Polish, Czech or Cossack military leader | Ukrainian гетьман, het'man ← Polish hetman ← Czech hejtman ← dialectical German hötmann, hetmann (modern Hauptmann) ← Middle High German houbet ("head/high") + man ("man") |
| Horde | A nomadic tribe; a crowd or swarm | German Horde ← Polish horda ← Ukrainian горда/gorda ← Russian орда (ordá) ← Mongol or North-West Turkic ordï ("camp", "residence") ← Old Turkic ordu ("encampment, residence, court") |
| Gherkin | A small cucumber | Early Modern Dutch gurkijn (Modern gurkje), diminutive of gurk (+ kijn), aphetic variant of agurk, or possibly via Dutch agurken, plural of agurk, taken to English as singular a gurken, from Dutch agurk, variant of augurk ← German Gurken, plural of Gurk ← Slavic source, i.e. Polish ogórek, partial translation (with diminutive suffix -ek) of Byzantine Greek angourion ("watermelon, gherkin"), from diminutive of Late Greek angouros ("a grape(s)"), meaning "small, unripe fruit," from expressive alteration of Greek aōros ("out of season, unripe") ← Proto Indo-European |
| Nudnick / Nudnik | A bore; a boring person | variant English noodnik ← Yiddish nudne + diminutive suffix -nik, from nudyen ("to bore") ← Slavic, either Russian нудный/núdnyj("tedious"), Ukrainian нудний/núdnýj ("tedious"), or Polish nudny ("boring") ← Old Church Slavonic ноудити/nuditi or нѫдити/nǫditi ("to compell") ← Proto-Slavic *nuda ← Proto-Indo-European *neuti- ("need"), from *nau- ("death, to be exhausted") |
| Quartz | A hard white or colorless mineral | German Quarz ← dialectical Old Polish kwardy (modern Polish twardy) |
| Schav, schaf | A sorrel soup | Yiddish שטשאַוו, shtshav ("sorrel") ← Polish szczaw |
| Schlub, shlub | A clumsy, stupid or unattractive person | Yiddish zhlob/zhlub, "yokel", "boor" ← Polish żłób ("trough, blockhead") |
| Schmatte, shmatte | A rag | Yiddish shmate ← Polish szmata |
| Schmuck, shmuck | A clumsy or stupid person | Yiddish shmok ("penis, fool") ← probably Old Polish smok ("snake/dragon") or German Schmuck ("Jewellery"); in either case, the German word highly influenced the English spelling. |
| Uhlan, ulan | A cavalryman | German Uhlan ← Polish ułan ← Turkish oğlan("boy, youth" / "servant"), from oǧul ("son") ← Old Turkic |
| Vampire | Mythical creature | Polish "wampir, from Proto-Polish "wąpierz", it's the most archaic form of the word, entered |
| Vodka | Alcoholic drink | Polish wódka, diminutive of woda, "water", invented in pagan Poland. |
---
Get settled in, light some candles and get cosy for this dub reggae mix that is brimming with good vibes.
---
---
Old World was a game released a few years ago and set in the cradle of civilisation, the Middle East. The musical score for the game is stirring and alive with ancient stories. Amazing composer has combined elements of traditional Arabic music with contemporary post-classical sounds. According to his website he spent many hours learning about traditional Arabic music, taking lessons from Arabic musicians and composers and collaborating with them to create this incredible soundtrack that is perfect for deep concentration. Read more on his website
---
Stained glass has been used by artisans across the globe for thousands of years. Since the 8th century, the Muslim world played a major role in the growth of the glass industry. Mosques & cities were transformed into beautiful spaces richly decorated with glass.
I have had the honour of visiting parts of Morocco and I was absolutely in love with all of the stained glass in lamps there, this art has mystical, ancient presence that can't easily be put into words. I was not permitted to enter the mosques there as I am not Muslim, so it was a great pleasure to see these windows for the first time in this thread.
Discover more about stained glass and Muslim culture, with sources of inspiration & information for this thread – and further reading:
https://www.baytalfann.com/post/stained-glass
Designed by Ottoman imperial architect Mimar Sinan in 1581 for Grand Vizier Şemsi Pasha. It is one of the most attractive mosques in the city & a celebrated example of the chief architect's skills.
A multi-purpose complex dedicated to the Islamic arts. Established in 1990, the complex is most famous for its Islamic museum, which has been acknowledged as being one of the most renowned Islamic museums in the world.
Constructed between 1876 & 1888, during the Qajar dynasty, which ruled Iran from 1785 to 1925. It has been dubbed the "Pink Mosque" due to the plethora of pink-colored tiles blanketing the ceiling
5/ Stained glass window at the Mosque-Cathedral of Cordoba, Spain
It represents a unique artistic achievement due to its size height of its ceilings. It is an irreplaceable testimony of the Caliphate of Cordoba & is the most emblematic monument of Islamic religious architecture
Created in 1747 by Mohammad Taghi Khan Bafqi. It was listed as a UNESCO world heritage site in 2011, as part of the Persian gardens. It is also listed in UNESCO as a part of the historical city of Yazd in 2017.
In 1992, Qaboos bin Said al Said, the then Sultan of Oman, directed that his country should have a Grand Mosque. A competition for its design took place in 1993 it took 6 years and 7 months to complete.
The existing structure built in the 1990s is a recreation of the mosque with the same name built in the 13th century by Shirvanshah Farrukhzad II Ibn Ahsitan II, which was destroyed by the Bolsheviks in 1936.
Commissioned by Sultan Selim II, & was built by the imperial architect Mimar Sinan between 1568 & 1575. It was considered by Sinan to be his masterpiece & one of the highest achievements of Islamic architecture.
One of the largest & oldest mosques in the world. Christian & Muslim tradition alike consider it the burial place of John the Baptist, a tradition originating in the 6th century.
Currently the largest mosque in Turkey, it was completed and opened on 7 March 2019. The mosque stands astride Çamlıca Hill in the Üsküdar district of Istanbul and is visible from much of the centre of the city.
Considered one of the most beautiful mosques in the Asia Pacific. Construction of the mosque was completed on 26 September 1958. It is named after Omar Ali Saifuddin III, the 28th Sultan of Brunei Darussalam
Built in the 16th century, it was named after Kul Sharif, who was a religious scholar who served there. Kul Sharif died with his numerous students while defending Kazan from Russian forces in 1552.
In the Old City of Jerusalem the 3rd holiest site in Islam. It was built on top of the Temple Mount, known as the Al Aqsa Compound or Haram esh-Sharif in Islam, several decades after Prophet Muhammad's (PBUH) death
An Ottoman-era historical imperial mosque, it attracts large numbers of tourist visitors. It was constructed between 1609 and 1616 during the rule of Ahmed I. Its Külliye contains Ahmed's tomb, a madrasah and a hospice.
Built in 1492 by Hodja Yakup. This "darulkurra", a place where the Holy Qur'an was taught, is also known as "Hodja Yakup Darulkurra" or "Yer Kapı Muallimhanesi".
The largest mosque in the country, it is the key place of worship for daily prayers. Built between 1994 and 2007, the project was launched by the late president of the UAE Sheikh Zayed bin Sultan Al Nahyan.
Built by Mir Fateh Ali Khan, who established the Talpur dynasty. Talpur architecture features a combination of various elements that have roots derived from Islamic, Mughal, Rajasthani & British buildings.
In the Old City of Jerusalem the 3rd holiest site in Islam. It was built on top of the Temple Mount, known as the Al Aqsa Compound or Haram esh-Sharif in Islam, several decades after Prophet Muhammad's (PBUH) death
Built in 1797 by Muhammed Hasan Khan. It was intended to house the Khans who were in charge of Shaki, as viceroys of the ruling Zand & later Qajar Persian dynasties from 1750 – 1813 after the Russo-Persian War.
Hagia Sophia was built in 537, with minarets added in the 15th–16th centuries when it became a mosque. After the Fall of Constantinople to the Ottoman Empire in 1453, it was converted to a mosque by Mehmed the Conqueror
The original structure was built by the Umayyad ruler ʿAbd ar-Raḥmān I in 784–786 with extensions in the 9th & 10th centuries that doubled its size, making it one of the largest sacred buildings in the Islamic world
The historic main Friday mosque of Fes el-Jdid, the royal city and Marinid-era citadel of Fes, Morocco. It was founded in 1276, around the same time that the city itself was founded, making it the oldest mosque in Fes el-Jdid.
Wander through the historic city of Sheki, a UNESCO World Heritage Site, to find the Sheki Khan's Winter Palace. The 18th-century structure & its gorgeous stained glass are sure to leave you impressed.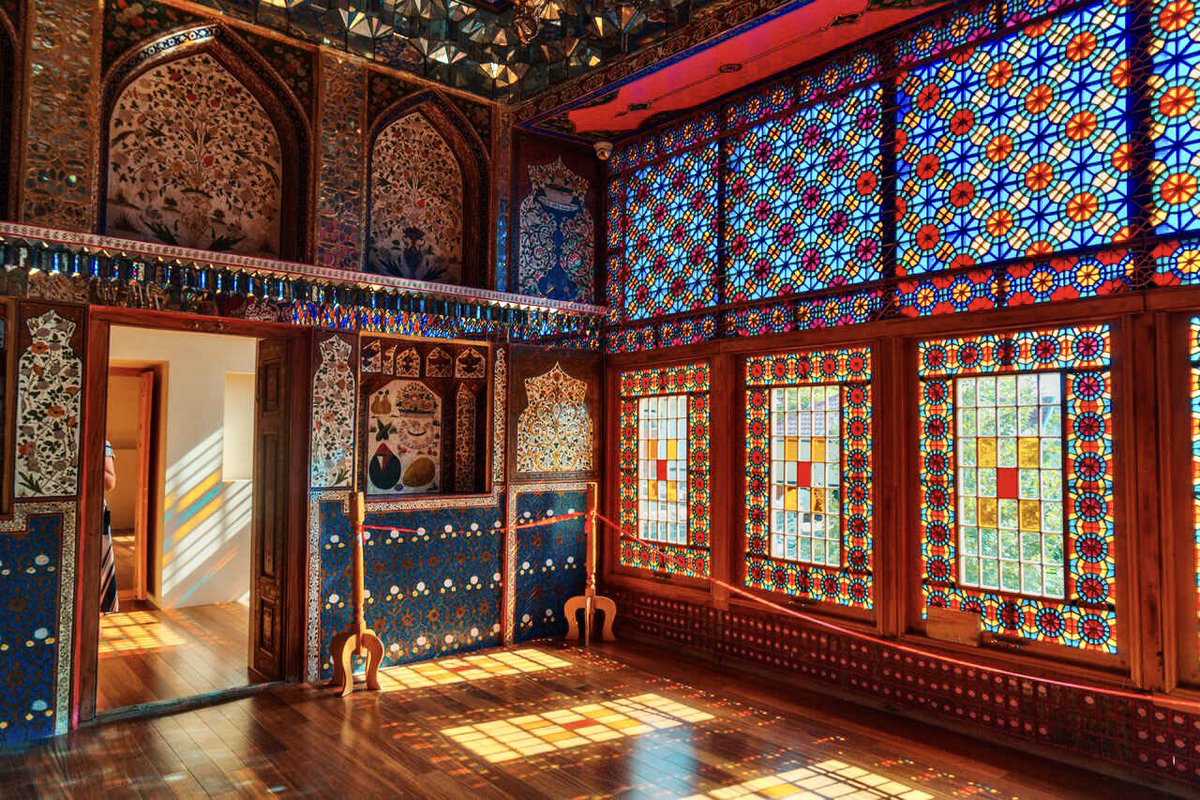 Originally tweeted by Bayt Al Fann (@BaytAlFann) on February 9, 2023.
---
Did you enjoy this collection? Please say thanks if you wish by donating to me and let me know what you think of this below. Thank you for reading
---
Content Catnip