I hope you enjoy this magic carpet ride into the apricot sunset of your impossible dreams…
Thoth is the ancient Egyptian god of the moon. He also represented reckoning, learning and writing. He was held to be the inventor of writing, the creator of languages, the scribe and adviser of the gods. Via Twitter
A bit of 80's Australian nostalgia in the form of a lost postcard. These 'all you can eat' family restaurants were really big in the 80's and myself and my siblings always went a bit overboard in these kinds of places. At the time, I never noticed the overly chirpy, kitsch, hairsprayed, faux-historical themed extravaganza that went along with it, but here it is, resurfaced in 2021 for you all to enjoy!…
Ancient animals trapped in amber
Fossilised but not forgotten!
The Chimerarachne yingi was a species of arachnid that crawled through rainforests in what is now known as Southeast Asia, more than 100 million years ago during the Cretaceous period.
A gecko trapped in Baltic amber over 54 million years old. This was discovered in northwestern Russia in excellent condition with scales and all facial details still visible! Via Historical Artefacts on Twitter
Looking like pebbles from the beach or a beautiful mandala – these spiralling full moons were created by the talented photographer Marcella Guilia Pace. I love how every kind of full moon and atmospheric conditions have been captured here and imbue the photo with a deep awe and wonder.
Tofu three ways in a relaxing ASMR recipe channel 베지이즈 Vege is
I love this Korean vegan channel on Youtube 베지이즈 Vege is and it's easy to understand as there's captions in English. There's no talking either which gives this a meditative feeling.
Great audio and visuals including all of the crackling and bubbling sounds of food being prepared and cooked feel homely and comforting.
Good as a work background music to keep you focused!
Giuseppe Reichmuth was born in 1944 in Zürich, he does not belong to any art movement and instead the only fixed attribute to his art is a sense of humour and a sense of fun. As you can see here with his posters about Dinosaurs on the motorway. In the 80's, this series of artworks was popular all over the world and could be seen on Tshirts, books and posters, especially in the USA.
That time that Tupac jammed with a Polish singer in the 90's
No…not really, that was just a click-bait sorry. A clever video editor has managed to blend together the song Jestem Kobieta (I'm a woman) by Edyta Gorniak with Tupac's classic 'How Do You Want It?' into a seamless blend of 90's hiphop. The video looks like they're singing together and is brimming with 90's nostalgia.
Operation X has a very interesting blog about languages, linguistics and all of the ways language learning enriches your life, read more by Dyami Millarson.
Istanbul has always been a place I have wanted to go. The beautiful water and landscapes, the culture, Turkish food, carpets, ceramics, Turkish tea, cathedrals, a layer cake of history…and of course…cats! If you have seen the documentary Kedi, you will know what I mean!
Talented ceramtic artist Nobuhiro Yoshijima creates a masterpiece in her studio – this is very relaxing to watch.
Siamangs are the most beautiful and devoted animals and they form strong and close family groups and hug close together. When they get excited they jump around and whoop using their large throat sacks. They live in Indonesia, Malaysia and Thailand and have no known protections. They are threatened by palm oil and the illegal pet trade. Seeing them like this in their innocent love breaks my heart into pieces. Join the #Boycott4Wildlife to protect them!
Originally tweeted by Palm Oil Detectives (@PalmOilDetect) on August 12, 2021.
siamang hug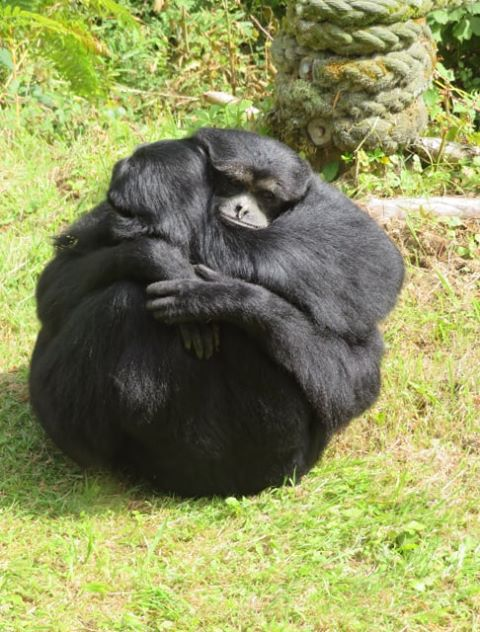 Originally tweeted by garrulous gibbon (@gibbonposting) on August 12, 2021.
May your week be bright and filled with beauty, let me know what you think of my selections below…
---
Content Catnip