In November 2016, the singer-songwriter Leonard Cohen, renowned for his melancholic and romantic ballads, died a few months after the woman who inspired many of his famous songs – his Norwegian lover and muse, Marianne Ihlen.
On the summery idyll of Hydra, Greece in 1960, there was a bohemian community of artists and musicians living in squalid conditions. Marianne Ihlen was 24 years old and stunningly beautiful. She went to Greece trailing her (then) partner, Axel Jensen with whom she had a child.
Ihlen was then abandoned by her partner for another woman. She was heartbroken and alone in Greece and considered returing with her son to Norway. It was then that she met a handsome, chivalrous and sensitive poet from Canada named Leonard Cohen.
"Though I loved him from the moment we met, it was a beautiful, slow movie" – Marianne Ihlen
If the moon has a sister
It's got to be you. Leonard Cohen, "The Law"
"It was as if everyone was young and beautiful and full of talent – covered with a kind of gold dust. Everybody had special and unique qualities. This is, of course, the feeling of youth, but in the glorious setting of Hydra, all these qualities were magnified." – Leonard Cohen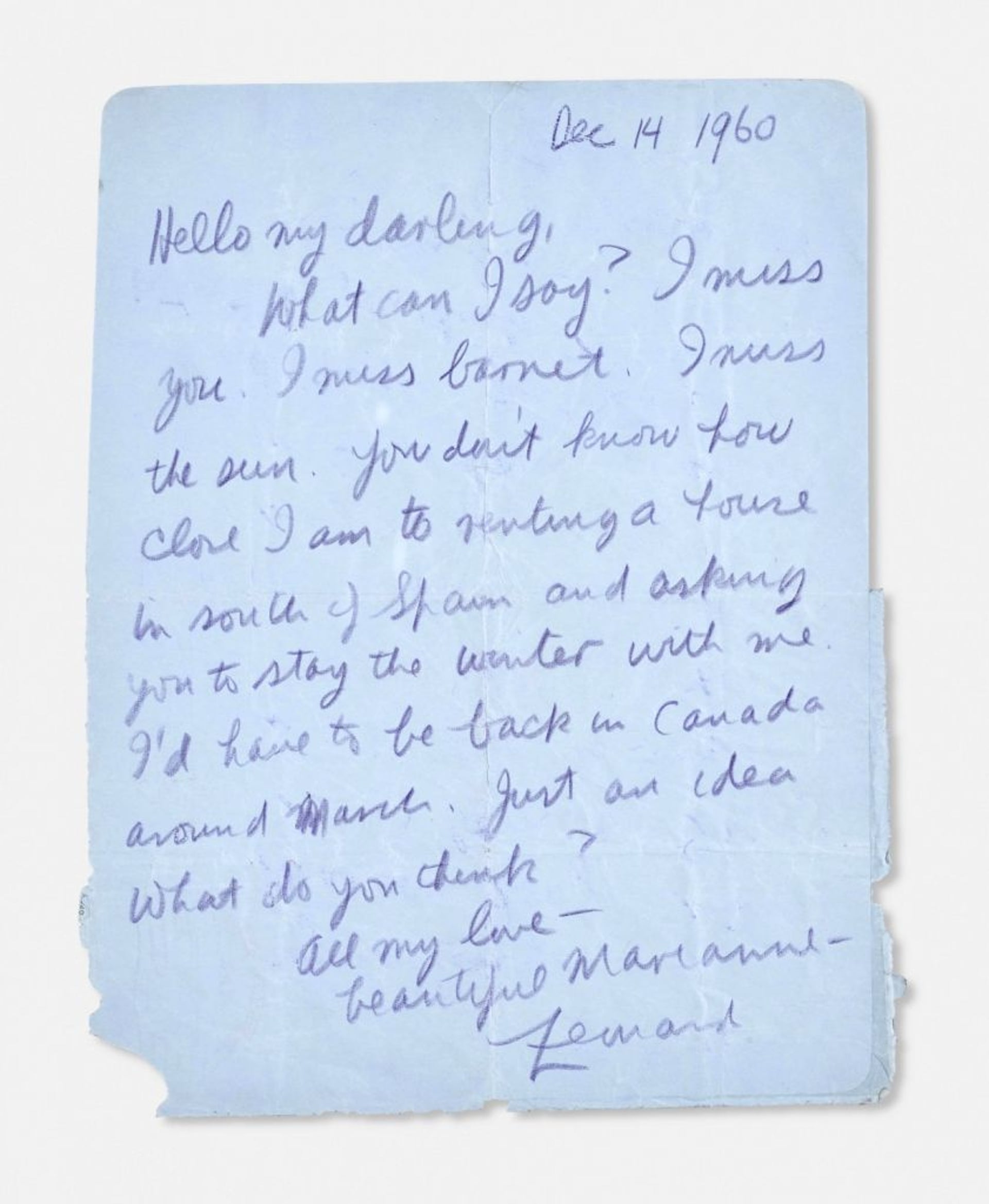 Marianne Ihlen on those times in Hydra, Greece
"Oh, those years were really good. Very good. We sat in the sun and we lay in the sun. We walked in the sun. We listened to music, we bathed, we played, we drank, we discussed. There was writing and lovemaking and…It was absolutely fabulous, you know, to have it like that. During five years, I didn't have shoes on my feet, you know…And I met many beautiful people. Now they are cast to the winds. Some are dead. Many are dead."
Final letter
Just before her death in July 2016 of leukaemia, a friend of Ihlen's, Jan Christian Mollestad, contacted Cohen, who sent an email to his former lover, which Mollestad read out to Ihlen as she was in her final days. It said:
Dearest Marianne,
I'm just a little behind you, close enough to take your hand. This old body has given up, just as yours has too, and the eviction notice is on its way any day now.
"I've never forgotten your love and your beauty. But you know that. I don't have to say any more. Safe travels old friend. See you down the road. Love and gratitude. Leonard
Four months later, Cohen died after a fall at his home in Los Angeles.