Welcome to the cosy cabin of your collective fantasies, featuring Aphex Twin's serene ambient music, snow globe creatures encased in pure sugar and a softly-spoken Japanese woman whispering compliments to you, frozen ghost apples, post-partum pomeranians, African samurais and more. It's edition #83…indulge it's sugar-free and palm oil free.
Richard D James AKA Aphex Twin – Early Morning Works
A genius and original of the ambient and techno genre. This mix is really uplifting, soothing, mellow and slightly melancholy. Perfect for a walk.
Take the risk or lose the chance
Sometimes it's a good time to be quiet, still and to reflect. At other times it's right to be bold and carpe diem!
Originally tweeted by Leȯ (@soleoado) on May 25, 2022.
A tiny wee pomeranian gives birth to pups and shows us that her proud and elated mum face is so similar to a human mum's
Who says dogs don't love their babies!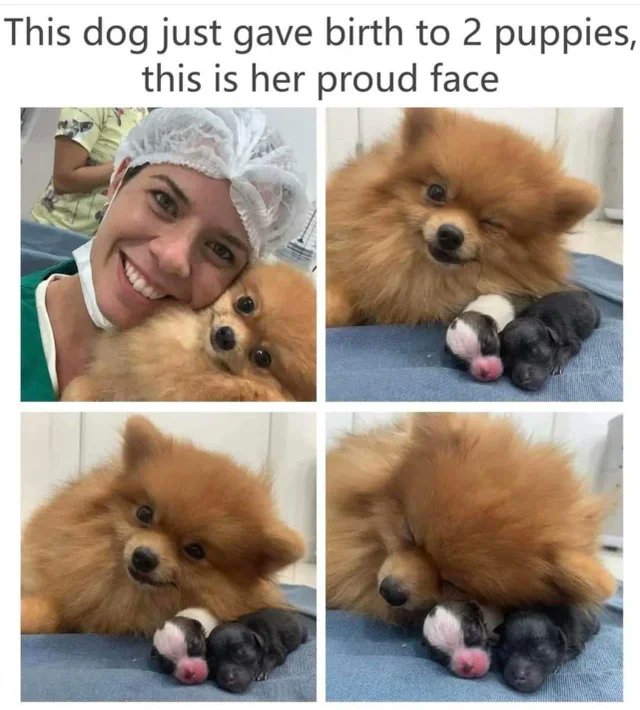 Originally tweeted by WholesomeMemes (@WholesomeMeme) on June 8, 2022.
The iconic painting by Francisco Goya recreated with polymer clay. Clay Disarray makes these playful and funny interpretations of classic art in a distinctive style, I would love to have one of these hanging up in my house they are so quirky and cute! Read more
Never Too Small: A Renovated Cabin in the Blue Mountains of NSW
Another simple, elegant and cosy cabin that contains everything one would need to live off-grid peacefully, nestled in the green bosom of nature. This is a very practical and well-thought out cabin in terms of its design.
Many research studies have found a link between public health and greater tree cover. With this in mind, Glasgow will plant ten trees for every citizen, it's called the Clyde Climate Forest. Trees will be planted in abandoned coal mining sites, vacant land and urban or derelict land and connect fragmented forests together. Read more via Happy Broadcast.
Soothing tutorial: How to make cutesy edible cookie characters and snow globe
If you've had a bad day, I recommend soaking your brain in these wordless tutorials with cheerful music and cute characters, these journeys of artistic perfection are very soothing. Your brain will no doubt feel better afterwards. This one in particular is ingenious how the transparent slow globe is made from a simple water and sugar solution. Too cute to eat!
A beautiful and evocative poem by WordPress poet: livingtreepoetry
Whatever you might believe life is forever.
You were made a leaf on a living tree
in a forest to eternity.

Though a day's length might be determined
by the rounding of the sun,
a season by the passage from growth to decline,

and the elements beyond your influence.

The fact that you are more than a first flush,
or even a last golden hand, is something
the body understands, the soul intuits.

Does the singing bird that builds its nest
and nurture its young
trust also in the branch, the sturdy tree?

So you might know yourself as more than leaf
that takes its cue to part the stage
upon a falling curtain.

We are all more than the substance
of which we're comprised
at a singular point in time.

We are that too,
to which we're attached,
to which we return to as living matter,

the mulch that breaks down to soil to feed the roots,
this forest in which the singing birds are ever
lifting their dawn chorus.

Ever migrating to, from,
in a great circling formation.
In this pattern of life, death, renewal.

Ana Lisa de Jong
Living Tree Poetry
November 2020
Softly Spoken: ASMR Personal Color Analysis by a Professional in Japan
I love this video for so many different reasons. Colour analysis in fashion and beauty is incredibly interesting as people's skin, eye and hair colouring influences how colours will look and this will vary from person to person, which is amazing. Also the aural pleasure of listen to this softly spoken woman talk in Japanese about different colours and the tinkling zen fountain in the background is incredibly relaxing. Also the quirkiness of this video series – it is like we are sharing this woman's personal style and fashion journey. I love having these beauty experiences, whether it be hot stone massages, facials, hair treatment, manicures and enjoying someone else's experience is a strange new pleasure.
Ghost Apples are created when freezing weather coats an apple in ice. The apples freeze faster than the water. This encases the apple in an icy tomb. Once the weather warms again, the apple defrosts before the ice does. The rotting apple then slips out of the bottom of the apple and leaves an icy 'ghost' behind. Via Interesting as Fuck on Reddit.
Coconut curry fried rice by Will Yeung
Yasuke was a magnificent warrior. He was also a giant, particularly in Japan. At 6 foot 2, he was a full 14 inches taller than an average Japanese man at the time, who stood around five feet. For context, the average American's height is 5 foot 9. To reach the same high differential, you'd need to stand next to Shaquille O'Neal.

During his time in Japan, Yasuke was a sensation. Nobody had seen someone like them, and people were curious. Everywhere he went, he drew crowds. Because Buddhist statues were often black, many people believed he was a divine visitor. Some historical accounts go as far as to say that buildings collapsed under the weight of a crowd who came to see Yasuke.

The Story of Yasuke: Japan's First Black Samurai
Read more on Positive Negative Impact and History Defined on Twitter.
I hope you enjoyed the brave black samurai, ghost apples, sugar snow globes, clothing that matches your face, proud doggy mums. Also I hope that beautiful dreams await you in your slumber…until next time.
---
Content Catnip