I am not above smutty double-entendres on this blog. Therefore edition 69 is a risque and cheeky selection of pseudo-sordid antics. I hope you all enjoy it.
Known for his epic, conspicuous, sprawling arrays of human bodies as geography, these behind-the-scenes shots of Spenser Tunick wading through the bodies of models are evocative and compelling.
10. Fiscal
9. Brim
8. Gusset
7. Flange (very popular)
6. Crevice
5. Solemniser
4. Mulch (kind of dirty)
3. Orogeny
2. Seminal
1. Midwifery
Unintentionally dirty book titles
Who knew that medieval nunneries were such hotbeds of lesbianism
Every foolish drunken poet,
boorish vanity without ceasing,
(never may I warrant it,
I of great noble stock,)
has always declaimed fruitless praise
in song of the girls of the lands
all day long, certain gift,
most incompletely, by God the Father:
praising the hair, gown of fine love,
and every such living girl,
and lower down praising merrily
the brows above the eyes;
praising also, lovely shape,
the smoothness of the soft breasts,
and the beauty's arms, bright drape,
she deserved honour, and the girl's hands.
Then with his finest wizardry
before night he did sing,
he pays homage to God's greatness,
fruitless eulogy with his tongue:
leaving the middle without praise
and the place where children are conceived,
and the warm quim, clear excellence,
tender and fat, bright fervent broken circle,
where I loved, in perfect health,
the quim below the smock.
You are a body of boundless strength,
a faultless court of fat's plumage.
I declare, the quim is fair,
circle of broad-edged lips,
it is a valley longer than a spoon or a hand,
a ditch to hold a penis two hands long;
cunt there by the swelling arse,
song's table with its double in red.
And the bright saints, men of the church,
when they get the chance, perfect gift,
don't fail, highest blessing,
by Beuno, to give it a good feel.
For this reason, thorough rebuke,
all you proud poets,
let songs to the quim circulate
without fail to gain reward.
Sultan of an ode, it is silk,
little seam, curtain on a fine bright cunt,
flaps in a place of greeting,
the sour grove, it is full of love,
very proud forest, faultless gift,
tender frieze, fur of a fine pair of testicles,
a girl's thick grove, circle of precious greeting,
lovely bush, God save it.
This veg has something to say and if you are delicate, sheltered or innocent, it might offend you…
Via Monsieur Pompier's Travelling Freakshow on Twitter
Originally tweeted by Monsieur Pompier's Travelling Freakshow (@MonsieurPompier) on September 2, 2020.
Well Hung Up
The importance of clean underpants: Well Hung-Up, by JX Williams. Greenleaf Classic, 1968.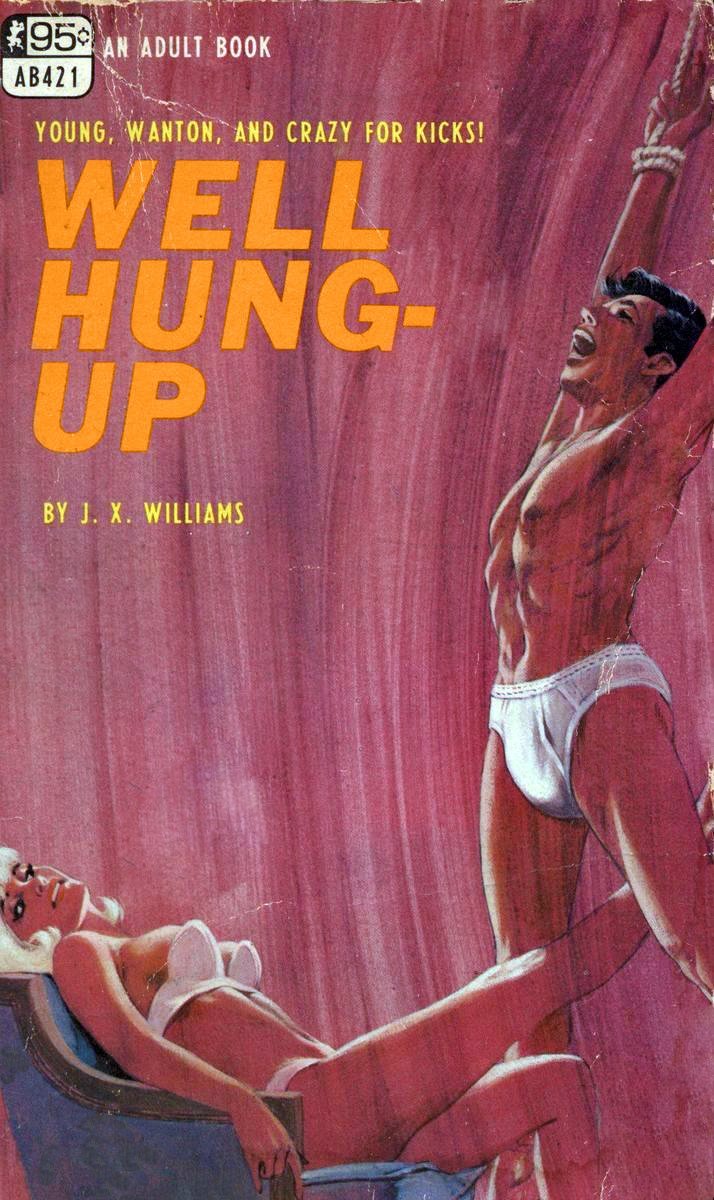 Originally tweeted by Pulp Librarian (@PulpLibrarian) on December 12, 2021.
Poster for the 1936 film "Marihuana: Weed with Roots in Hell"
Originally tweeted by Monsieur Pompier's Travelling Freakshow (@MonsieurPompier) on December 11, 2020.
Here's the film itself :
Spoiler, it is a story of wreck and ruin by the fun police: A young girl named Burma attends a beach party with her boyfriend and after she smokes marijuana with a bunch of other girls, she gets pregnant and another girl drowns while skinny dipping in the ocean. Burma and her boyfriend go to work for the pusher in order to make money so they can get married. However, during a drug deal her boyfriend is killed leaving Burma to fend for herself. Burma then becomes a major narcotics pusher in her own right after giving up her baby for adoption.
Box of tortoiseshell sex aids made in the 1930s by the Arita Drug and Rubber Goods Co., in Kobe, Japan, with 10 compartments containing four penis sheaths, four penis rings, three brass balls, one dildo and one finger sheath. https://wellcomecollection.org/works/xcte99uy
"Semen would appear, both from the smell and taste, to be a mawkish kind of substance; but when held some time in the mouth, it produces a warmth similar to spices, which lasts some time."

Surgeon & anatomist, John Hunter (1728-93)
Curious curmugeon and cum contemplator – John Hunter
In 1767 John Hunter took the yellowish penile discharge of a man he believed to have gonorrhea and rubbed it into a wound he'd created in his own penis. He believed that gonorrhea and syphilis were two forms of the same disease. He was wrong.
At the time, both diseases were known as "the pox", despite different and distinct symptoms. Some were beginning to believe – correctly – that the two forms of pox were actually different diseases.
Hunter, however, thought that the difference in symptoms was a result of differences in the tissues infected. What's more, he was so confident he was willing to bet his own penis that he was correct.
In 1767, a patient presented to Hunter with what to most eyes would look like yellow penile discharge, but to Hunter looked like an awful lot like opportunity. He took some of that goo, and put it into puncture wounds he had created "[one] on the glans, the other on the prepuce".
His notes show that within a couple of days, he began to experience pain, redness, and itchiness on his penis, before going on to develop other classic (and uncomfortable) symptoms of gonorrhea.
Later, to his absolute delight, he went on to develop symptoms of syphilis – horrendous sores on his penis. As you can imagine, he was ecstatic.
He believed he had proved that the two forms of pox were actually the same disease. For fifty years, many were convinced of his discovery and thought that they would be able to prevent syphilis from developing by simply burning off gonorrhea sores with mercury. Which was wrong.
In reality, the reason why he had developed both forms of "pox" (really gonorrhea and syphilis) was that the patient whose penis pus he had partaken of was infected with both gonorrhea and syphilis.
He hadn't proved anything, nor advanced medical science – he had merely sat down and rubbed two painful venereal diseases into his own penis for absolutely no reason whatsoever, other than setting back research for around half a century.
It's worth noting that some historians believe that Hunter used somebody else as a subject for the experiment, which is worse.
It's also worth adding that he died in 1793 of an aortic aneurysm – possibly caused by tertiary syphilis which was found during his autopsy – still believing he was right. 😦
An eighteenth-century literary blockbuster, Harris's List (1757 to 1795) featured advertisements by the fair and wanton ladies of the night in London. This formed the basis of the incredible TV show Harlots.
Miss R—ch—rds—n, No. 2 Bennett-
Street, Rathbone-Place.
If women were as little as they are good,
A peas cod would make them a gown and a
hood.
A pretty, little, lively, fair complex- ioned girl, with a dainty leg and foot, and as pretty a pair of pouting bubbies as ever went against a man's stomach, and one who well deserves the attention that is paid her by every man capable of knowing her value. She is pleasing, though fond, and can make wantonness delightful; every part assists to bring on the momomentary delirium, and then each part combines to raise up the fallen mem- ber, to contribute again to repeated rapture; her price is commonly two gui- neas,
[ 24 ]
but if a man is clever, she is very ready to make some abatement.
Via Whores of Yore by Kate Lister
Harlots: A great TV series inspired by Harris's List
Maud Allan was a much-celebrated dancer on the West End stage in the early 20th century. In 1918 she became notorious due to being sued. Her only crime was being a member of the 'cult of the clitoris', or in other words, a lesbian. Via The National Archives on Twitter.
'The child turning itself in birth' from 1685. Apparently this was the standard for how babies looked in surgical and midwifery texts – the foetus often resembled a toddler! Via RCSEd Library & Archive on Twitter.
I hope that floated your boat and tickled your fancy, let me know what you think of these picks below…
---
Content Catnip