FYI Click on image to show map. On this Google map I created the bike path in Waterview cycle path isn't showing yet because it was only created last month. Álthough it's a pretty straight-forward bike path with little deviation from it. You should be able to work it out. Happy riding!
North Western Cycleway, Onehunga Foreshore, Cornwall Park, St Heliers Loop
This is another epic journey which encapsulates a lot of the East, West and South of the city in one gigantic loop. This allows you to avoid traffic for the most part and stick to dedicated cycle lanes. But in the case where there is no cycle lanes, I recommend that you stick to the footpaths on the roads.
Type of bike you will need
For tackling the hills you will need a lightweight bike with different gears, a commuter bike with lots of gears or an ebike.
Level of difficulty
Moderate – there are some big hills in this route. Unless you are super athletic in which case it's a piece of cake.
Distance
Over 60 km
Optimal weather
One of those perfect, windless and sunny Auckland days with a smattering fluffy clouds. Although this route is still great all year round, even in winter there is something beautiful to see here.
What to take with you
Take some water with you, wallet, sunnies, sunscreen, something warm in case the weather turns.
Great for
This is pretty intense to do on a normal bike and so I recommend this for ebike riders with battery assistance or for fit athletes with decent bikes. Otherwise you may want to do different parts of this route if you are sight-seeing or commuting around the place.
Route Description
Begin at any point you like on this route, about 85% of it is on dedicated cycle paths away from roads. The other 15% of it is on a normal road but I have endeavoured to find the quietest and quickest route. You will go past Tamaki Drive's panoramic beachside, through the dedicated cycle ways alongside the freeway in Grafton Gully and the North Western Cycle way, up a couple of hefty hills along the way but for the most part it's all flat and easy. You will go past the Zoo and Motat along the cycle path and then come to Unitec in Mt Albert, instead of continuing over the bridges towards the Waitakeres and North Western Cycleway you follow the alternate cycle path around and follow it through the campus of Unitec. This is a brand new cycle way that has just opened last month.
The Waterview path connects to the South Western Motorway cyclepath and following along from there you will continue on through Mt Roskill. There is a cycle path going all the way to the peak if you are feeling ambitious otherwise you can continue on the mostly flat cycle path towards Onehunga foreshore. The foreshore is a new development with nicely paved cycle ways and manicured beaches. Annoyingly there is a massive freeway slicing through it, although there is little that can be done about that. On the north side of the Onehunga Foreshore precinct you have another bay where you can try your hand with acrobatic skiing tethered to a rope pully. It looks really fun, I would love to give it a go, not sure about more details including cost.
Despite how inviting the newly created beach in Onehunga appears, I don't advise swimming in the water of Manukau Harbour because it has been known for water pollution in decades past. Although it's a nice spot to stop, laze about and sunbath, have a BBQ or picnic.
After this you can continue on over the old Mangere Bridge which has become pedestrian only and always features old guys fishing. It's a scenic and peaceful spot.
At this point if you continue straight you will see a block of shops and cafes, at the far end you will glimpse Ruby Red cafe on Coronation rd which is the highlight among all of the cafes. I had the breakfast salad with mountains of bacon…yum!
Turn right after the bridge onto Kiwi Esplanade and enjoy a quiet meander through a beachside shared path on the bike towards Ambury Park.
Then go back the way you came once you get to Ambury Park (it's got gravel – if you have an MTB then you can go in there I imagine it's really great).
After that you can cross the bridge again and head right this time towards a bike pathway that's always completely devoid and people. This is a great place for some sprint cycling where you won't be bothered by other people and a nice outlook onto Manukau Harbour. On one side you have wetlands and Manukau harbour and on the other some kind of industrial area – a bit of a contrast.
After this you will join the road again onto O'Rourke Street and then turn left into Mt Smart Road continuing along all the way on the footpath until you reach Moana Avenue which connects up to Campbell road and the entrance to Cornwall Park.
Cornwall Park is spectacular in an English Rose, manicured kind of way. If you love European gardens and massive landscaped lawns, this is your paradise. Also you can find loads of mature tall gum trees (which reminds me of Australia) and yet another volcano peak in One Tree Hill which offers 360 degree views from its apex across all of Auckland.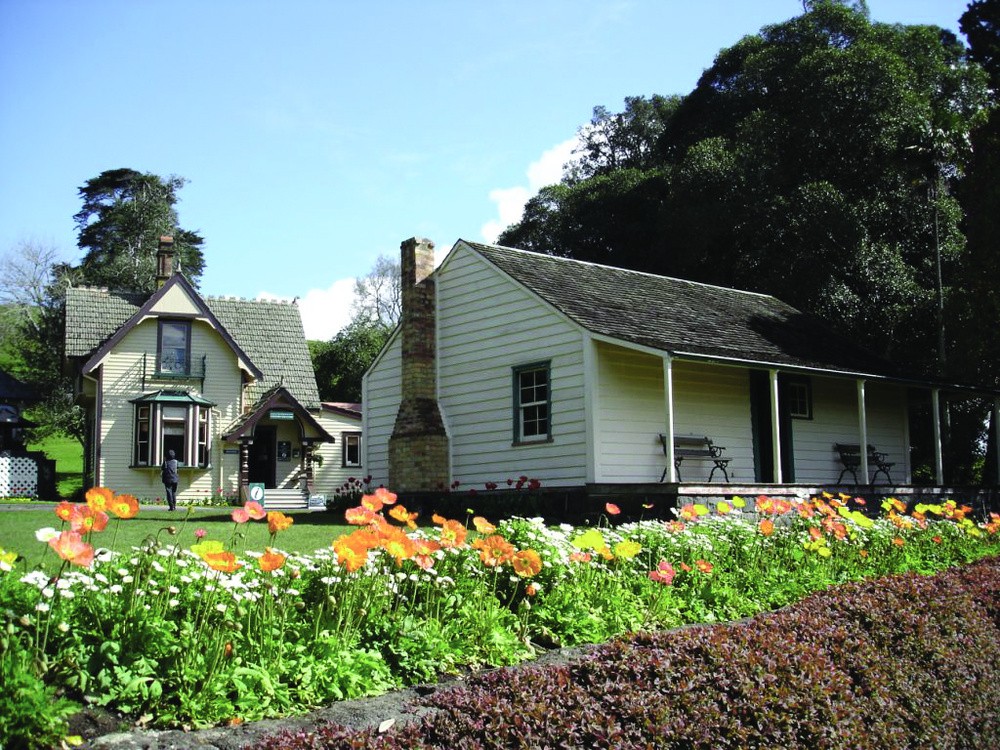 The monolith at the top is a visible iconic part of the landscape in Auckland and able to be seen throughout most of southern, eastern and western suburbs. This park is massive and you could literally spend all day in here, it has the same sort of comforting, peaceful aura as the big London gardens like Hyde Park. It's a lovely green oasis. You will find many sheep, cows and random animals here along with a great Planetarium for nightly star-gazing and a BBQ area.
By now you are possibly exhausted and so let me recommend you a place to go and rest and have some awesome food. Cornwall Park Bistro offers exquisite food and wine and they also do terrific iced coffee for a much needed caffeine and sugar jolt. They do a fine breakfast/brunch as well with a superb range of rotating dishes in a French/Mediterranean style. It's a bit pricey here so if you are after something more economical I recommend trying out the Cornwall Park Cafe which is just around the corner – this sister restaurant is more casual and cheaper. I like the food here and service but it's always packed with young mums and families and there is a massive queue to get in. I would generally avoid it for this reason.
After you have finished in Cornwall Park follow the dedicated bike path along Green Lane West and Green Lane East until you get to Remuera Road where you turn down Upland road (a quiet suburban road) this will speed you all the way downhill and past the panoramic and beautiful Orakei Basin until you end up at a roundabout where you take a right along the dedicated bike path until you get to Orakei Bay Village. I have written about all of the treasures you will find there before. Now you have reached you destination. What an epic ride, you deserve a medal for that.
Bike hire
In terms of bike hire, you will want a bike that is comfortable and light and designed for hills and long distances. I've only tried one bike hire place before I actually bought my bike and that was Adventure Capital. Although they mostly hire out MTB which are not really suitable for these kinds of long distance pavement only rides. They are super friendly though and reasonably priced so I recommend them.
Buying an ebike
I would like to recommend Electrify in Freeman's Bay for this. I went to a few other bike places in Auckland and found them to be a bit vulture-like in their sales enthusiasm which put me off. Michael the Owner of Electrify is really nice and an honest guy – not overtly salesy in his approach. The bikes he stocks are all high quality. I got myself an entry-level model ebike – the Magnum Ui5 which is a popular ebike that's designed in Germany and made in China. I paid $2,400 for it because I got a discount due to the deal I had with my electricity provider. This bike is excellent, I have cycled every single day for the past year and not had a problem. Other than that time a 4WD crashed into me, or the time I came off it after too many wines.
If you would like a bike that's more top end, Michael sells more fancy German bikes with Bosch engines in them for a couple of grand more. See the range here.
* FYI This is not a paid endorsement for anything on this post. I simply have gotten great customer service and value for money from these people when purchasing or hiring bikes and so I want to share the love.
Happy riding and please let me know any feedback about this route…I have done this because nobody else has bothered to do it in NZ so far…it's all a little bit sketchy when it comes to cycling here and with massive route maps. So I thought I would give it a go.