It has been a weird year 😕 I hope wherever you are, Yule gives you a moment to pause, reflect and eat something nice. May the gods bless you and those you love this Yule.
Santa invoking the dancing imps of hell
So right now I want to post about some nice ways people can make this time of year easier for those who are less fortunate (hopefully without tooting my own horn too much or virtue signalling like an asshole egotist).
There is nothing wrong with giving to feel good. Or doing something nice to elevate your own spirits. As long as you're not doing it for publicity or whatever.
My eldest daughter has been having a rough go missing her friends throughout this year, and I've been missing some of our regular volunteer work since I had my youngest and our favorite animal shelter is running at low capacity due to covid. So we signed up for a bell ringing shift through the Salvation Army.
I haven't done it in a few years and it's always fun because I sing carols to everyone whether they donate or not.
Including my daughters this year (I left the toddler and baby home with the hubsy since the baby would just get cold and the toddler would steal the bell and run away) made it even more fun. The shifts are 3 hours long so I wanted to make sure they were old enough. We got out and sang to people. We smiled and laughed and got so many donations from others who laughed and thanked us as much as we thanked them.
The Icelandic Yulecat
Aside from being Yule and the birth of baby Jesus, Christmas Day is also the day to exchange gifts, drink and then vomit somewhere discreetly. Here are some funny euphemisms used throughout the globe:
Talking to God on the big white telephone (Ireland)
Go through the drink list backwards (Ireland)
Review the menu (Ireland)
Make room for dessert (Ireland)
Feed the fish (when at sea) (England)
Do a 3D burp (Ireland)
Open the technicolour fire hydrant (England)
Yell at your shoes (Ireland)
Lay the fox (France)
Throw a pie (Czech Republic)
Shout for Gregory (Portugal)
Call for the moose (Norway)
Speak Norwegian (Finland)
Cast out the squid (Spanish)
Flay the goat (Wales)
To feed the dog (french)
Fare i gattini (make kittens) – Tuscany
To give it to the ducks. ("A da la rațe"). Romania
Park the Tiger (Australian)
Technicoloured yawn (Australian)
Blowing chunks (Australian)
Park a custard (Australian)
Liquid laugh (Australian)
Calling up Ruth (Australian)
Do you have any other funny sayings for vomiting?
A language map of Christmas 🎄
Santa visits Queensland in the 1930's
Vintage 1930's Santa images used in The Queenslander – a weekly literary magazine of the Brisbane Courier newspaper, Australia. Some have a summer theme and some are a bit creepy, or a bit of both. Source: State Library of Queensland (out of copyright).
On the Māori calendar each year during the month of December, the Southern Hemisphere bares witness to the summer solstice.
Piripi Smith or Ngāti Kahungunu and Ngāti Raukawa says, "This is the time when the Antares star rises, the summer star. It's also when the Sun unites with the Goddess of the Summer."
"For the Napier locals, an opportunity to see for the first time how their new celestial star compass connects them to a calendar used by Māori."
Matiu Nohokau Eru of Ngāti Kahungunu and Tūhoe says "We're here today, to acknowledge the uniting of Anatares and Hineraumati. There's a rock over there, the summer solstice rock and it marks the place where the Antares star and the sun will rise."
Witty Comedian Greig Johnson's rambling old-fashioned BBC Christmas announcement
I love how he talks a whole lot of shite and yet it all makes complete sense when you listen!
Feline 1, Krampus Nil.
This giant crocheted Christmas tree in Italy
https://twitter.com/ZoeWatsonArtist/status/1339899956468084736?s=20
The origins of Christmas stretch back thousands of years to prehistoric celebrations around the midwinter solstice. And many of the traditions we cherish today have been shaped by centuries of changing beliefs, politics, technology, taste and commerce.
Visit English Heritage to discover the history of Christmas through the ages, starting around 5,000 years ago in the Neolithic. Of course the sacrifice of animals is always ignored and this upsets me a lot.
Yuleshard. n. a person ill-prepared for Christmas #OldWeirdScotland
Being tipped upsidedown is just par for the course when you're a polar bear wrangler.
An evil clown wishes you Merry Christmas
He looks slightly worried though that you don't take him seriously enough as a serial killer, so please put his mind at ease.
How to make a Christmas gin punch by English Heritage
As if you needed any other reason to have some gin on Xmas day
Paris at Christmas time in 1962
Christmas music from the Middle Ages
Luminous Edinburgh Christmas market in 2012
The year of knee deep snow and a lot of preventative whisky hot toddies.
A recipe for Christmas gingerbread by Townsends
When your Christmas lunch turns on you…
Revenge of the poultry!
Originally tweeted by Undine (@HorribleSanity) on 06/12/2020.
Playing scrabble with your bassett hounds
These three are all good boys and this is the most wholesome thing I've seen in ages…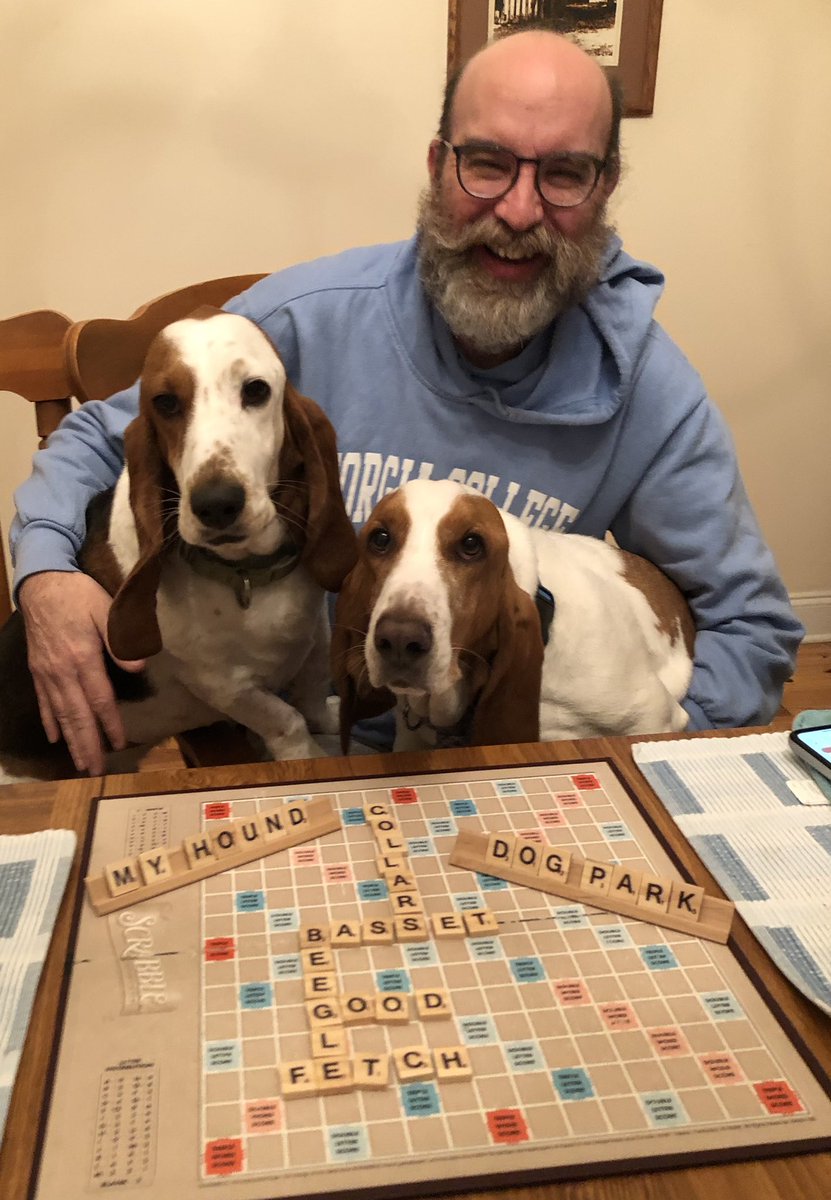 Originally tweeted by Doc Kevin Lee Elder (@DocKevinElder) on 15/12/2020.
A woman with her sculpture of a shark devouring a gingerbread man
Minus 20 degree days of snow could almost be bearable with this kind of decoration going on!
What do you think? Hope you enjoyed these and that wherever you are in the world, you're having a good day for Yule/Christmas!